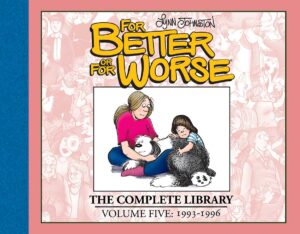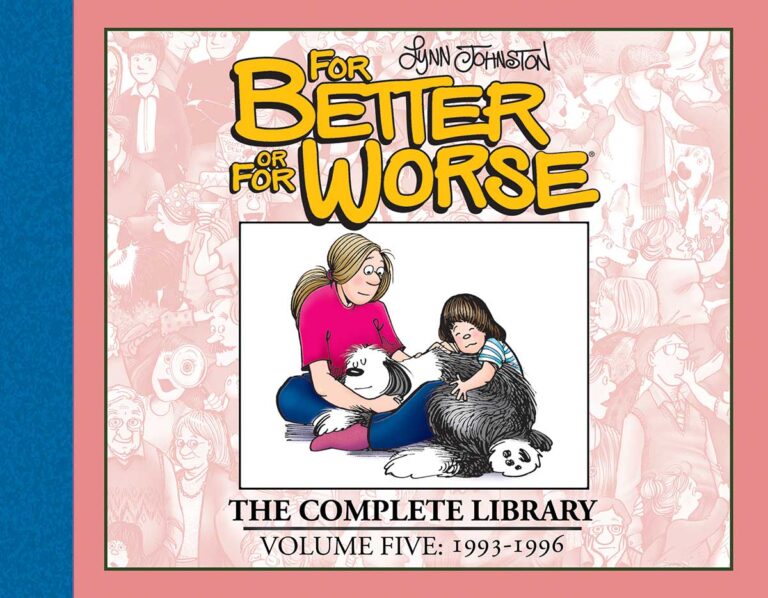 This volume features one of the most beloved stories in the strip's history—the saga of Farley, the family dog. When little April gets into big trouble, it is up to Farley to come to her rescue. But that isn't the only big event in the lives of the Pattersons. Michael heads off to college and begins his road to journalism. Along the way, he meets his new roommate and is reunited with an old flame. Elizabeth, meanwhile, navigates her teen year, has her first serious relationship, and spends a summer on the farm—a rite of passage that Michael took five years earlier. Back at home, Elly and John deal with adult problems such as house renovations, career changes, and menopause. Lynn Johnston keeps the ongoing narrative fresh and interesting, developing each character in realistic ways while successfully toeing the line between soap opera drama and situation comedy. Includes every comic strip from April 25, 1993 to August 31, 1996.
ISBN 978-1-68405-750-4
11″ x 8.5″, 544 pages, hardcover
$49.99 USD
Order online: Amazon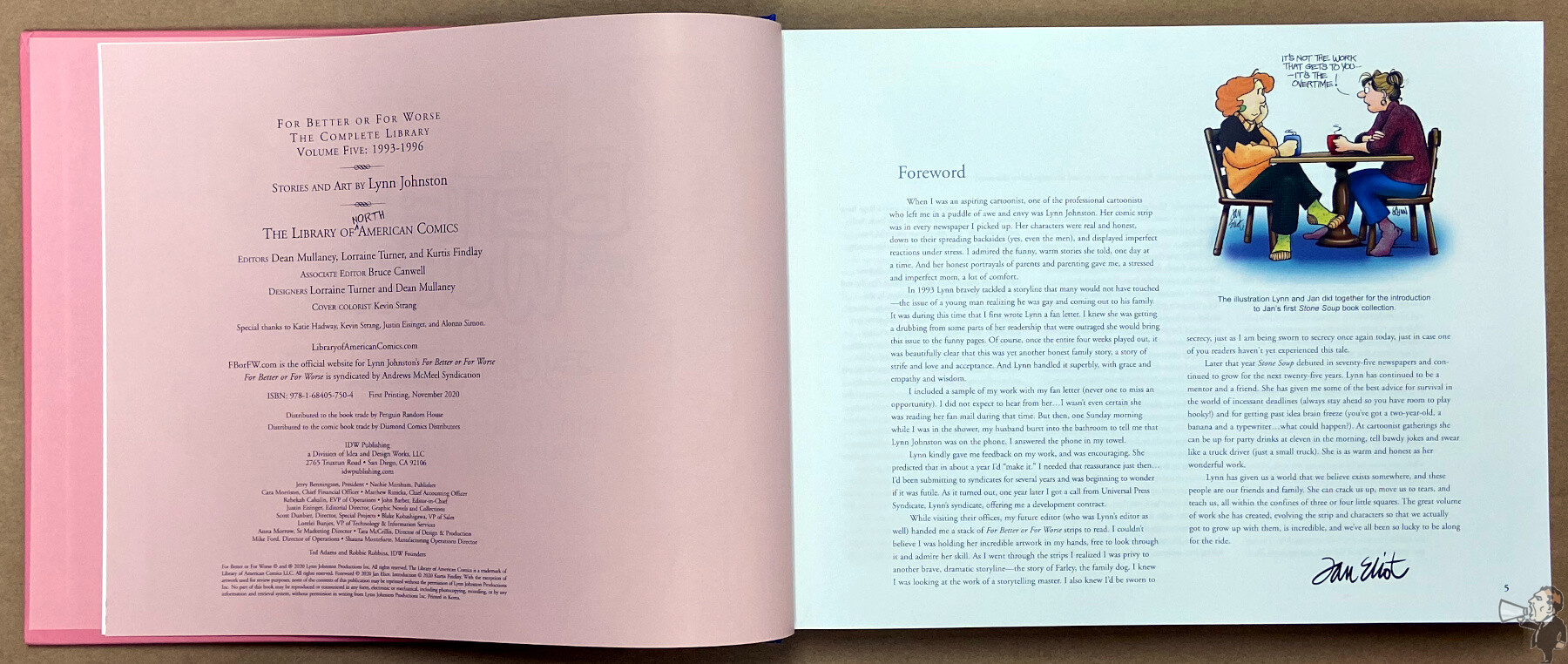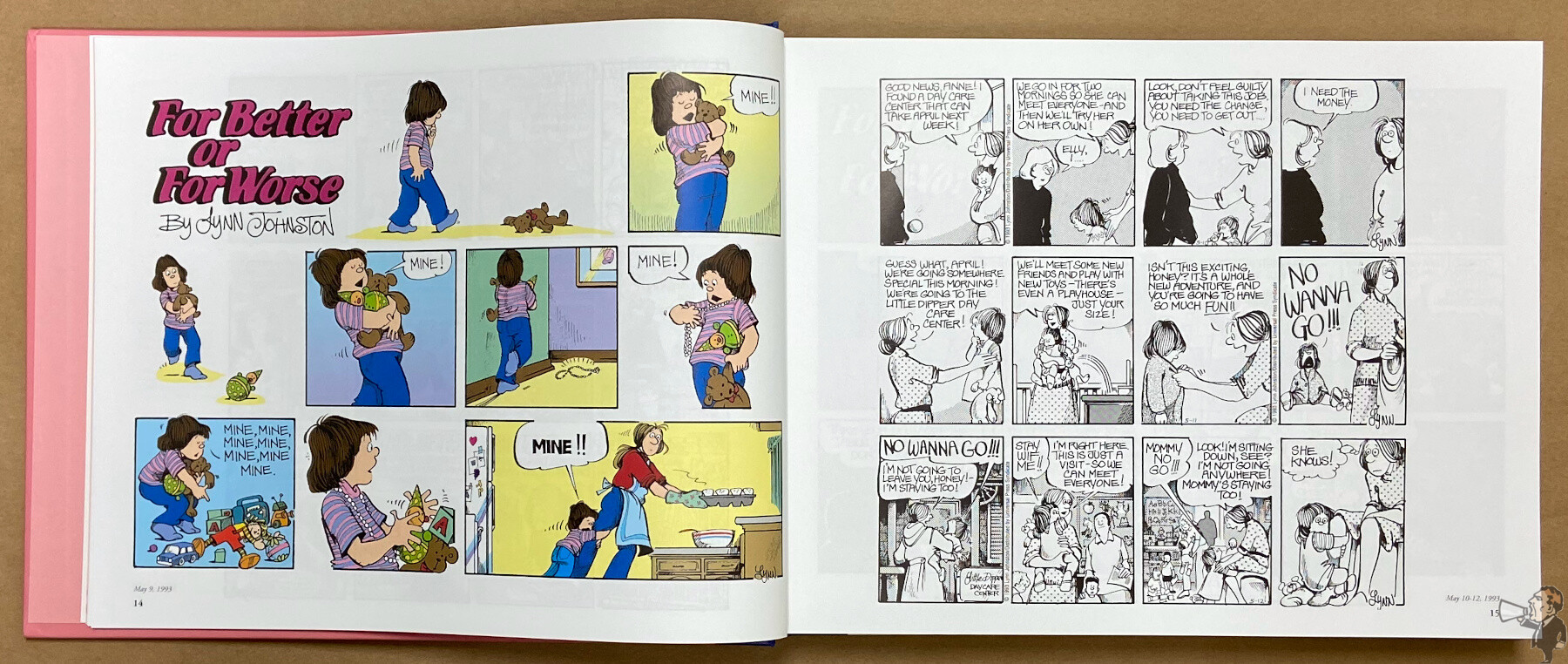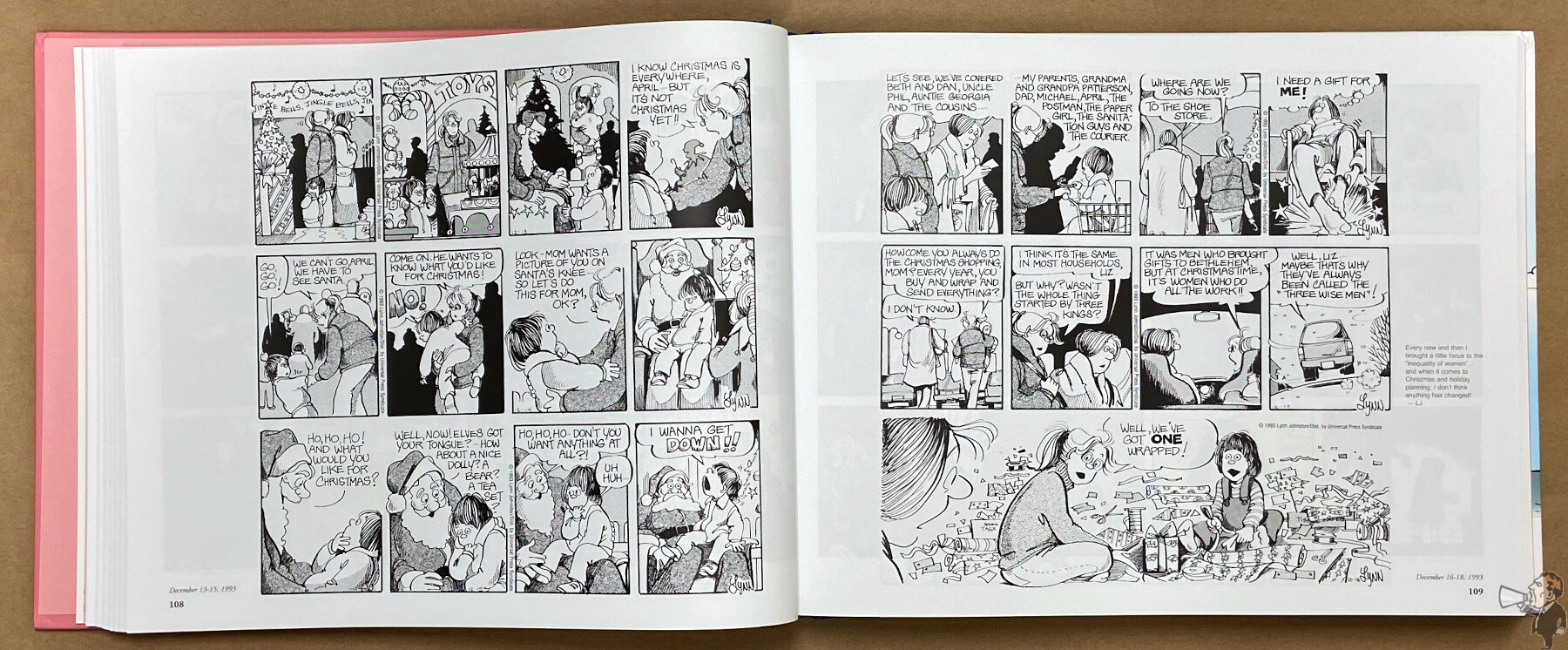 This strip is halfway through its second decade at this point and Johnston has a very keen grasp of her characters and their environment. It's still a white middle-class traditional family dynamic with a husband, wife, three children and a dog. And that works, as is proven once more in this fifth volume.
Humour is the lynchpin of For Better or For Worse, but it's nuanced and well presented, each and every strip. This isn't a gag strip, more a slice of life. All the characters age as the strip progresses, so their oldest Michael goes off to college and the middle child Elizabeth enters high school. And the youngest April enters pre-kindergarten. And the loss of a family member. These are the main elements of the storylines, as everyone learns to navigate life's next challenges. Middle-aged people are boring: it's the young people who bring fun to life.
New challenges, new opportunities, and new ways for Johnston to use these characters and their normal lives to find the emotion in these ordinary moments. But humour is just one of the elements here: there are many instances of joy, hope, sadness, grief, and everything in between.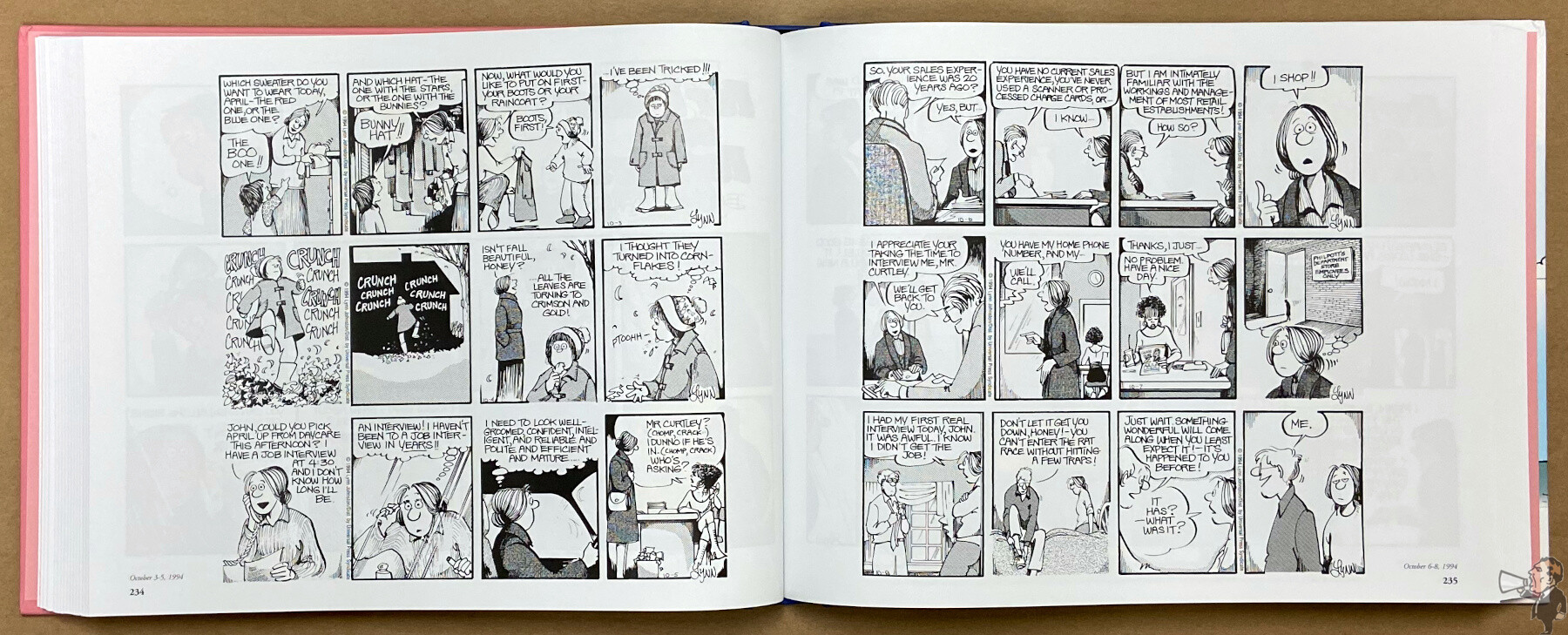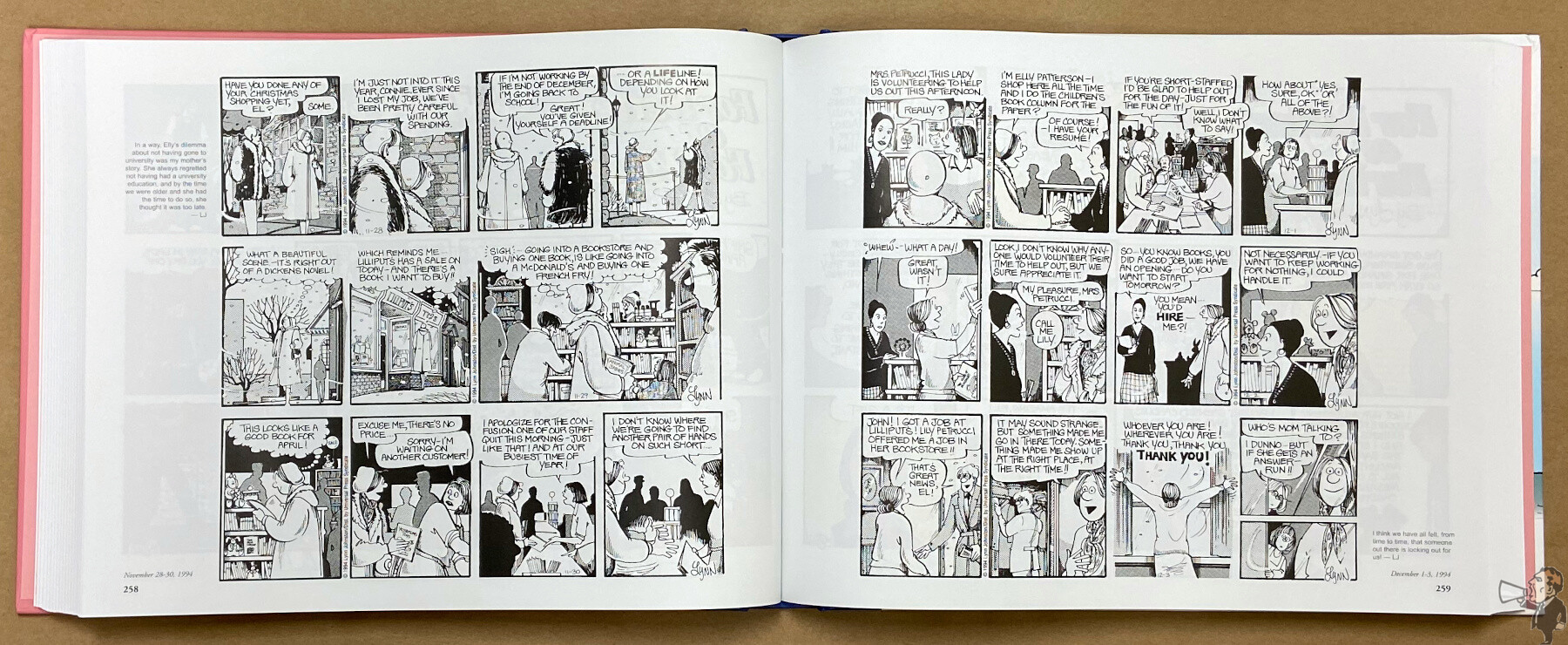 I wasn't a regular reader of For Better or For Worse growing up: the continuing story of a family and its experiences didn't hold my younger self's attention. Reading the strip now, and relating to so many of the strips, kept me turning page after page. The Patterson family became an extension of my own as I smiled, chuckled, or cried along with its characters. This was the fastest I've ever read a comic strip collection: cover to cover in two days. My age and family dynamic mirror so well I was buoyed along as I devoured every page.
The main stories are carried through the dailies, with the Sundays sometimes presenting something from the main storyline in a condensed form, or not relating at all. Johnston mentions in one of the frequent strip notes, a wonderful addition to any collection and a keen insight into the creator and their process, that some papers only carried the Sunday strip so she would compress a key story into something people could digest in that one Sunday.
Along with three years of strips, we get a foreword by Jan Eliot, an introduction by Kurtis Findlay, and a one-page biography of Johnston. The introduction starts with "Spoiler Alert: Important story elements are revealed in this introduction. Readers may wish to read the strips before this essay", which I feel is good advice for most collected editions.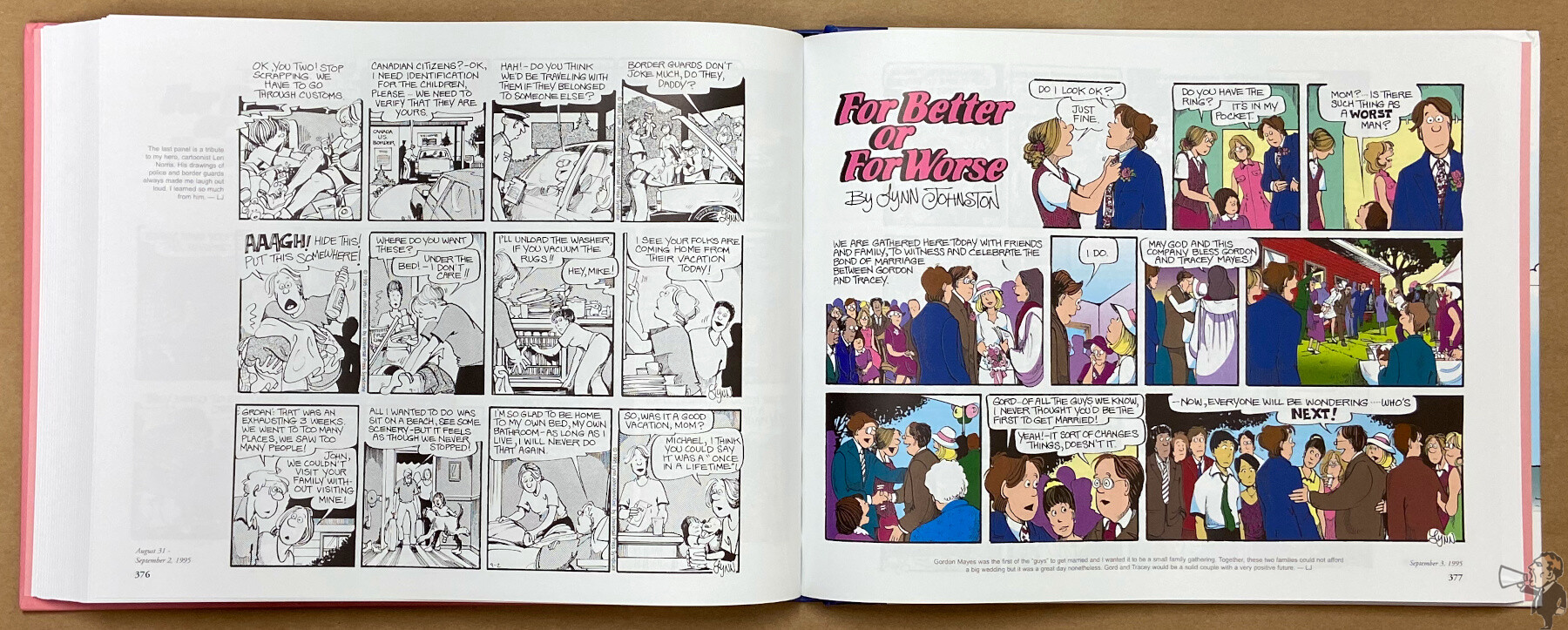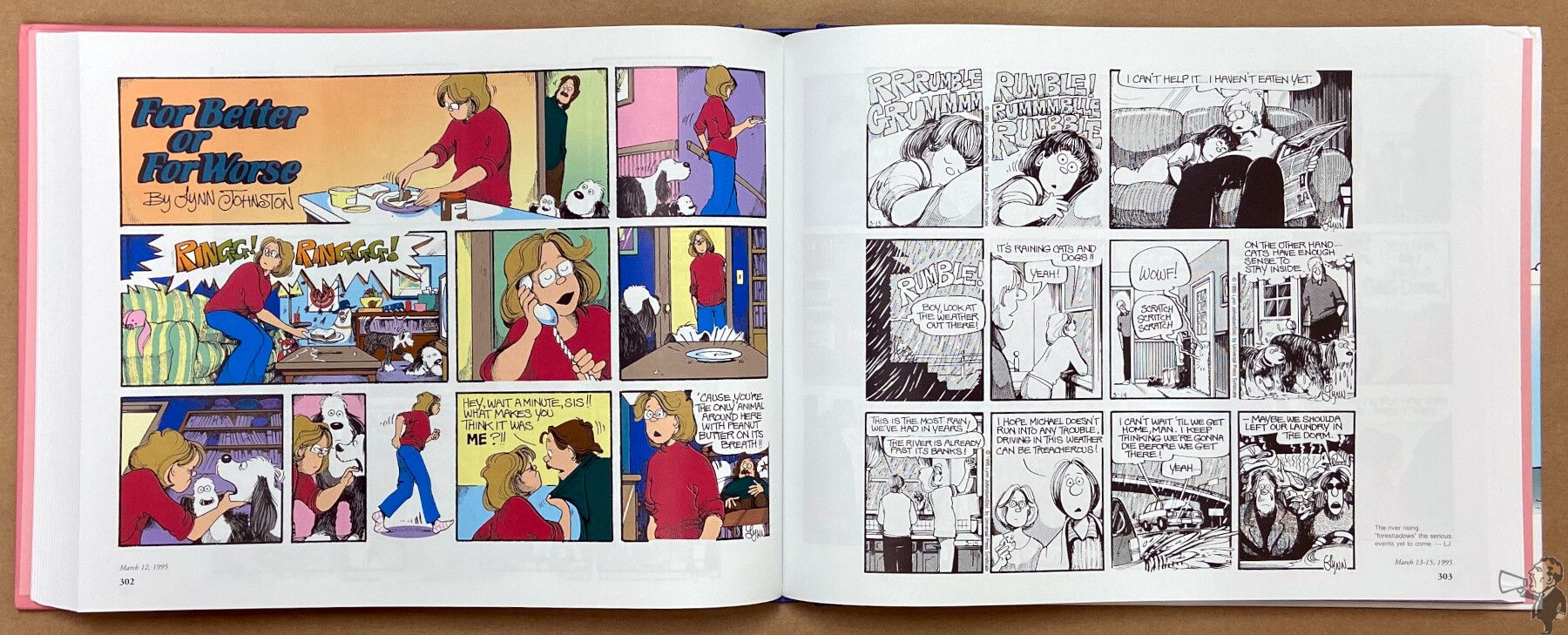 The strips are well presented: three black and white dailies per page, two pages of dailies and then a full-page colour Sunday. Almost all of the dailies were crisp and clean, with very few heavy blacks. Most of the Sundays are bright and clean as well, but I found a few in the last quarter of the book that had an issue with the colours being a bit off. Findlay mentions in his introduction that the second half of the Sundays were digitally coloured; perhaps that's my issue with the visuals.
This is a very clean and minimal design. The primary colour from the cover moves into the plain endpapers and title page. Great use of strip images in the cover collage and frontispiece. Strip dates and page numbers along the outer edges. Johnston's notes appear on the edges for dailies and the bottom for Sundays.
This is a sewn binding of a thin semi-gloss paper. There is bleed through on the pages because of the paper stock, but it is 544 pages in a very reasonably sized package. These are the highest page counts in the Library Of American Comics and a solid value for the price. I do miss the silk ribbon so often found in LOAC books.
---