The title says it all.  Fables: Covers By James Jean is a 9×12″ hardcover collection of James Jean's covers of seventy-four monthly issues, ten trade paperbacks, one on-shot and one graphic novel.  If you enjoy Jean's work then pick up this book.  Nuff said.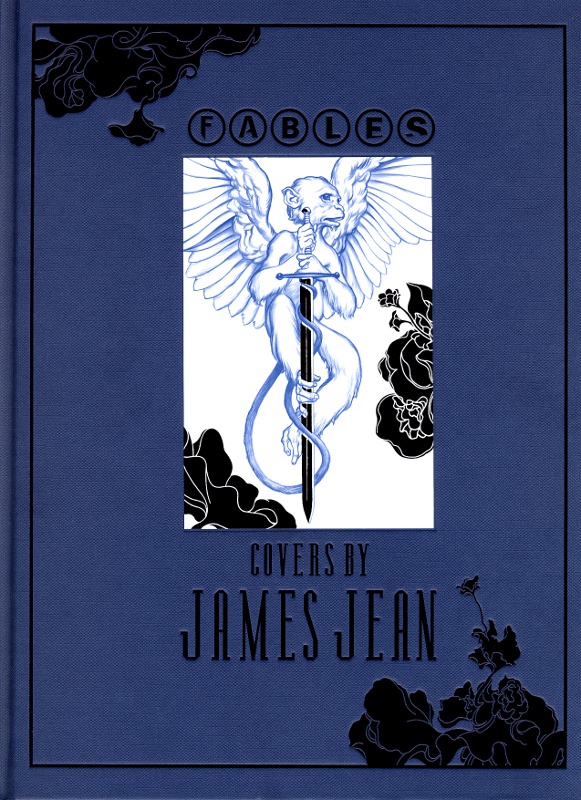 Wait a minute, that sums it up but it's the details and package that make this a stand out volume not only because of the content but the way it's delivered. Let's start with the stunning image above: that's the front cover once the dust jacket is removed. Why would anyone want to cover up that image?
The interior layout is sheer brilliance: each cover receives a double spread with preliminary work on the left and the finished piece on the right. The finished pieces are stunning and you get to enjoy them in all their glory but the work up pages on the left give the real story. Have a look-see below.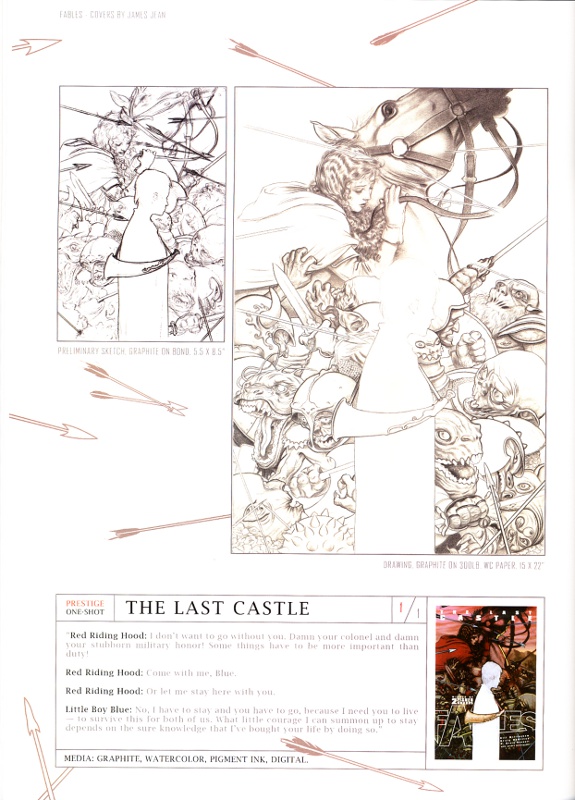 Here we have the preliminary sketch, pencils, published cover, text from the book that inspired the image and notes on media used. And we have this for every image: a peek behind the curtain. It's impossible not to marvel at the skill shown in the roughs, let alone the pencils and completed paintings.
After the art we are treated to an interview of Jean by Fables writer Bill Willingham, an afterward from Jean and a pictorial look at his studio. These bring a nice close to the volume.
I missed Fables: Covers By James Jean when it was published in 2008; a new printing was released this month and first printings are still widely available.  Until now I had no idea how amazing an artist James Jean is: I hope you find the time to peruse and pick up this hardcover.  A new standard for comic art books has been set and the gauntlet was thrown: publishers please rise to the challenge and produce volumes in this stunning format.
Fables: Covers By James Jean
Vertigo, 2008, ISBN 9781401215767
---
Originally published at Comic Book Daily under my Bound Together column.