While on my recent trip I picked up the June 2010 issue of PC Plus; in it they glowingly recommended a product called DriverEasy.  I was on vacation and although PC Plus is the most expensive British tech mag import I was in Paris and splurged, but that's an aside; back to DriverEasy.  It is a tool that scans, downloads and installs device drivers for your Windows system, all for free.  You can upgrade to the paid version that provides device driver backups and faster downloads.  I took the free version for a spin.
It's all very straightforward: click to scan, click to download, click to install.  If you're very trusting you can select "install all" but I went for the at a time installation.  The process is mostly automated and for the most part gets the drivers correct.  For my ATI graphics card it all went without a hitch, the final install step launching the ATI executable.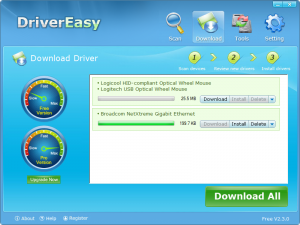 I have a Microsoft IntelliMouse Explorer on my PC but DriverEasy insists I install a Logicool and a Logitech driver, which I decline.  I've had two Broadcom NetXtreme Gigabit Ethernet driver updates: the first was from Dell that extracted to my hard drive where I stopped the installation, the second just the actual driver that DriverEasy opened a folder to.  I was surprised to see a Dell installation start on my non Dell PC but if that was where DriverEasy could get newer drivers I was fine with that.  For the second generic driver update I had to go to Device Manager and update the NIC driver myself, but couldn't locate the folder DriverEasy used since it was nested nine folders deep.  I copied the final driver folder to my desktop and installed from there.
Download speed on the free version was quite fast and I didn't feel the need to back up my drivers so I could easily pass on the paid version.
I would have to sum up DriverEasy as a hit and a miss: perhaps Driversometimeseasy would be most appropriate.  For the tech savvy it's nice having the latest drivers for my hardware located all in one place, but suggesting the wrong drivers and making users route around in Device Manger isn't for most.