I took advantage of the freezing weather to cold smoke my latest batch of bacon.  Until now I've been hot smoking it: working with a temperature of 200 degrees Fahrenheit in my Big Green Egg I smoked the bacon for about four hours until it's internal temperature reached 150 degrees.
With the Weber Smokey Mountain I can maintain smoke indefinitely and keep the bacon's internal temperature to around 100 degrees.  I smoked this batch with sugar maple charcoal and maple chunks for six hours.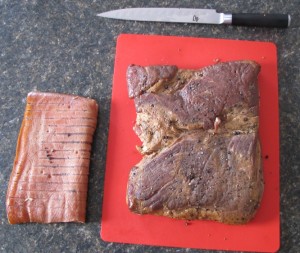 The texture of the finished product was a lot softer.  The skin was a real pain to remove since the fat didn't heat up: normally with hot smoked bacon I can peel the skin off quickly and easily.  I save it for baked beans or wrapping a porchetta.
Frying it up I found it to be chewy; definitely something wrong.  I think it needs more heat, say 110 degrees internal.  Was smoking some pork loins the next week and hot smoked this bacon to get a product I was happy with.