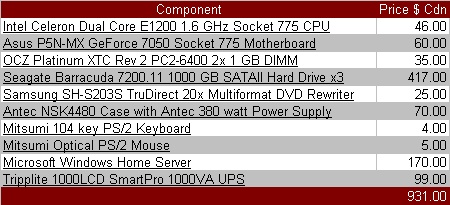 We've completely retooled our server recommendation. Previously we built an SME server at the $4000 CDN mark that filled most business requirements. We've scaled that back to a SOHO server that stretches to the SME segment for backup duties of up to ten clients.
CPU: Intel Celeron Dual Core E1200
To start things off I went with the Celeron Dual Core processor at 1.6 GHz: lots of power for this application.
The Asus e-7050 motherboard is solid, utilizing the Nforce 610i chipset. Rock solid with cutting edge features like SATAII RAID5, Gigabit LAN, all in a microATX form factor.  It's not fancy but has everything we need.
RAM: OCZ Platinum XTC Rev 2 PC2-6400
DDR2 RAM pricing is so cheap it's crazy. Our motherboard supports two DIMM slots so we're putting in two 1 GB sticks.
Hard Drive: Seagate Barracuda 7200.11 1 TB
Storage is deftly handled by onboard SATAII that we've maxed out with three 1000 GB Seagate hard drives. A SOHO server is primarily about storage after all.  1 TB drives are finally at a great price point.
Optical Drive: Samsung SH-S203S TruDirect
A DVD Rewriter give the option of writing back discs in case of emergency, and it's cheap enough not to worry about.
Video Card: Onboard
Video is decent, but this is a server after all. No monitor needed on this system as Windows Home Server is designed to be managed remotely.
Chassis: Antec NSK4480
The housing of choice is an Antec NSK4480 case. Very slick design with enough space for our four hard drives and optical drive. Included 380 watt power supply is all we need. Overall a very quiet chassis.  I'd love to find a microATX case that holds four hard drives and is reasonably priced, but until that happens this is our best bet.
Input: Mitsumi basic keyboard and mouse
Input comes via a basic PS/2 keyboard and optical mouse; again this is a server and will not have someone working in front of it, but for the money they're good to have around.  Disconnect once the server is up and running.
UPS: TrippLite 1000LCD SmartPro
Last but not least is a decent UPS ( uninterruptible power supply ). This model has a nice display, doesn't take up a lot of space and can run our server for a great price.  Nothing like losing power and seeing open files disappear. Don't run any mission critical PC without a UPS in place.
Operating System: Microsoft Windows Home Server
Windows Home Server makes this whole thing possible. It's designed for two things: complete backup of up to ten PCs, plus remote access to your files.
There is lots of room in this configuration to get the price down or change up the operating system: remove a few hard drives, take out the UPS (danger, danger!) or use Ubuntu instead of Windows Home Server.