My wife and daughter have been carefully tending our first vegetable garden and we have a small harvest: zucchinis.  I wasn't sure what to do with them but spotted a post about zucchini fritters on Michael Ruhlman's website.  It was a solid recipe but I didn't have most of the ingredients so I made a lot of substitutions.
One large zucchini or two medium, shredded
one medium onion or shallot, minced
two tablespoons of fresh herbs, minced
two eggs, beaten
three to five tablespoons of flour
1/4 cup shredded cheese
one clove of garlic, minced
salt and pepper to taste
I shredded the zucchini on a box grater along with two shallots.  Added all the other ingredients and the flour until it was a not too wet consistency; I had thyme and flat-leaf parsley for herbs, a buttery French ripened cheese we brought back from Paris.  Heated an inch of vegetable oil in a cast-iron skillet and dropped a heaping tablespoon of the mixture into the hot oil, turning once crisp.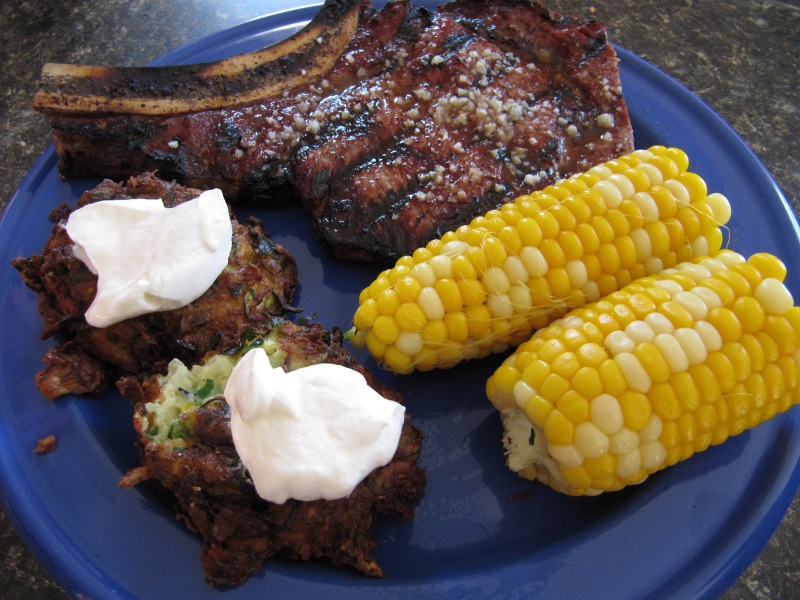 They turned out amazingly well; unfortunately, I put too much of the mixture in the oil so my fritters didn't crisp in the middle.  They were light, crunchy and not the least bit oily.  I'm anxious for more zucchini from our garden.