The WordPress site I was working on had an issue with images: if the option to link to file, File URL, wasn't clicked when adding the image it would default incorrectly to the post and clicking on an image would result in a 404 error.  This was annoying since multiple contributors were adding posts and images and while you can tell people how to do things there are some who never follow directions.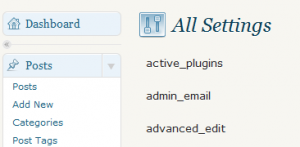 Multiple internet searches led me to a WordPress options page that doesn't show up on the menu at all: enter www.sitename/wp-admin/options.php in your browser and you're confronted with All Settings.  That's right, every setting for WordPress and it's plugins all in one page.
It's alphabetically listed so I went to image_default_link_type and entered File as the option, scrolled to the bottom and clicked Save Changes.