I was working on a PC that had a multifunction printer: the user was scanning to email via Samsung's MFP utility but it was opening Outlook Express instead of the default email client Thunderbird.  Since Outlook Express had never been used it started the new user wizard which was a pain.
Checked the Samsung application for settings but it wouldn't let you pick which application opened when you selected "Scan to email".  I then checked in Thunderbird that it was the default mail client, which it was.  This was further confirmed by Outlook Express prompting to become the default client.  At first I was perplexed then vexed by this maddening behavior.  Then a light bulb went on.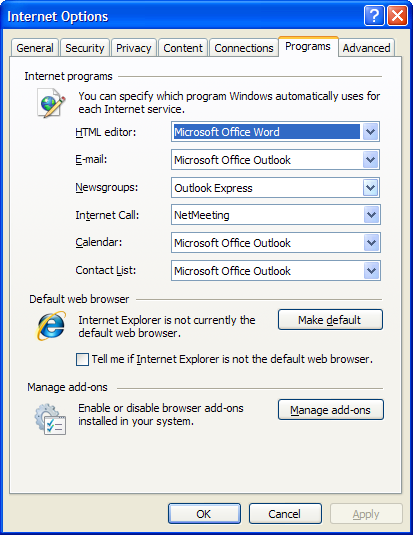 I went into Internet Explorer, Tools, Options and click the Programs page which you can see above.  The email line was set to Outlook Express; here I have Microsoft Office Outlook since this is on my PC and not the one I was working on.  Samsung's app checked this setting to see the default mail client for some odd reason.