Originally published at Comic Book Daily under my Bound Together column.
During the 1990s The Tick from Ben Edlund and New England Comics was the hottest comic property going.  The black and white comics were a smash success that led to an animated cartoon and a live action television series.
Of course it was the comic books that started it all: Edlund had created the Tick in high school as first appeared in the New England Comics (NEC) newsletter; they are a large chain of comic stores.  A comic was developed and published by NEC that featured this odd character and his even more bizarre enemies.  Edlund completed twelve issues and then went on to greener pastures in television while NEC continued the book and spin offs but they never had the same knack for comedy.
During its heyday multiple printings of the first issues occurred with different covers for each printing: something fairly new for the time.  Issue two had a rectangle cut out of the cover's center: a lot of imagination went into those early issues.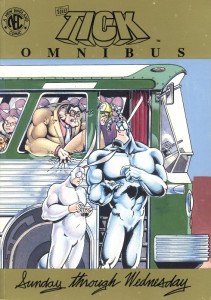 In 1990 NEC published The Tick Omnibus: Sunday Through Wednesday.  The softcover collects the first six issues with a forward by Edlund and an unsigned introduction by I believe George Suarez the editor.  There was also a signed and numbered limited edition of the same material with a run of 3000, signed by Edlund, Suarez and Robert Polio the art director.  Edlund also drew a Tick headshot on the signature pages.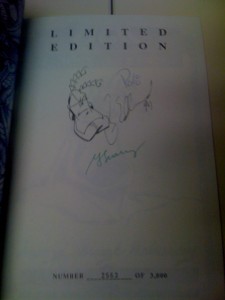 At the time it was $19.95 and is still the only signed and numbered softcover book in my collection.  Most copies I've seen are in poor condition: chalk it up to the softcover and the readability of the material.  They vary wildly in price: poor copies for cover price up to $400 for a nice 9.0 or better copy.  Having read the issues as they were published I picked this up at my local comic book shop for $30, Canadian exchange at the time, and it's sat on my shelf ever since.
The Tick Omnibus: Sunday Through Wednesday Limited Edition
New England Comics, 1990, ISBN None