I'm an on and off Matt Wagner fan: his drawing I usually enjoy but his storytelling as a writer has me on the fence. When he started Madame Xanadu I thumbed the first few issues but couldn't commit; now that the first ten issues are collected as Madame Xanadu: Disenchanted. Here's the publisher's blurb: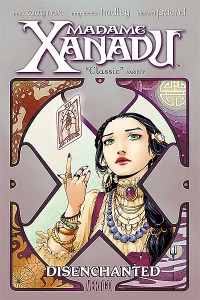 The first ten issues of the hit series from writer Matt Wagner and rising star artist Amy Reeder Hadley are collected in this new trade paperback! Madame Xanadu's powers of sight can change the course of human history, but her vision is clouded when she looks into herself. Thrown into worlds of war and men, she encounters a dark stranger who knows both her past and future. This debut volume reveals Madame Xanadu's centuries spanning origin from Camelot to the court of Kubla Khan to 1940s New York City and beyond… Featuring an introduction by James Robinson (STARMAN). 240 pg.
This is a fresh look at a rarely used character through the eyes of Matt Wagner.  This story arc leads us through Madame Xanadu's life beginning in Arthurian England up to today.  She encounters the Phantom Stranger and begins a life intertwined with his appearances.  After losing her faerie powers she's on her own in the world; luckily she knows how to use magic in its various forms to make a life for herself.  We follow her from Camelot to Khan's China, the French Revolution, Victorian London, New York.  Each period she plays a role in history, always through the Phantom Stranger's involvement.  It's a love-hate relationship that does a good job of weaving a time-spanning tale.
Madame Xanadu as a character is rich and multifaceted, brought to life by Wagner. The dialogue and storyline play out well and keep you turning the pages. Amy Reeder Hadley has a clean and Asian influenced art style: she draws the main character beautifully and the covers are wonderful. I found her other characters, especially men, to be not as well defined. The art waned at times and I found it to be quite static. Minor complaints that didn't detract from the overall experience.
A great re-imaging of a relatively unknown character.  Vertigo offers issue 1 as a download if you'd like to sample the merchandise.
Madame Xanadu Volume 1: Disenchanted
DC Vertigo, 2009, ISBN 1-4012-2291-9