A friend of mine bought a used Mac Mini and then promptly had issues with the hardware and so it migrated to my storage closet.  It languished there for a while but I needed a small PC for my wife's desk so I did some playing around: the operating system was hopelessly trashed and there wasn't any software with the machine, just the unit and it's power cord.  This would be my first experience with an Mac.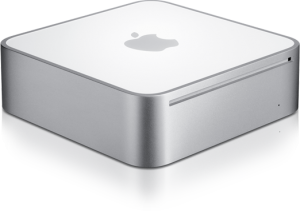 I poked around a bit and found it was according to Apple model MA205LL/A which comprised an Intel Core Solo 1.5 GHz processor, 512 MB of DDR2 RAM, 60 GB SATA 2.5″ 5400 RPM hard drive, CD-RW/DVD-ROM and integrated 950 graphics.  Released in early 2006 this machine was very forward thinking with it's DDR2 memory and SATA hard drive.
Without OS X to install I decided on Windows XP Professional and tried booting from the install CD.  Of course this being a Mac things are different and you need to know keyboard shortcuts to get it to boot and such.  Google revealed holding the Option key down during boot would present a boot menu, or holding down the C key would boot from the optical drive.  Looking at images of the Apple keyboard showed the Option key was Windows Key on my PC keyboard and the Apple Command key was ALT.
Locating my one and only USB keyboard allowed me to continue, but no matter what key I held nothing happened.  Looking online showed you had to press the key before the grey screen came up for I wasted an hour trying to hold the key at different boot opportunities to no avail.  Finally more online searching indicated this technique would only work when the keyboard was plugged into certain USB ports.  Cursing Apple and it's oddness I moved the keyboard around until everything worked for me and I installed Windows XP.
Of course I didn't have a lot of the required drivers but since Apple moved to Intel processors and introduced Boot Camp that allowed for dual booting I knew they were out there and a lot of searching found a kind soul who had gathered the boot camp drivers together.  We finally have a fully functioning PC!
Once working it seemed dog slow and more searching revealed two SO-DIMM slots in my Mac Mini that could handle up to 2 GB total: I had to find this information online because I couldn't figure out how to get it open.  Another search (how did we get things done before massive internet search engines?) showed to flip the Mac Mini over and use a putty knife along the three sides to move plastic clips enough to get the cover off.  Inside showed very skillful engineering and my Apple scorn went away.  Four screws out and I had my two 1 GB SO-DIMMs installed.
With the additional RAM the machine was peppy but not a speedster; good enough would sum it up.  I looked at processor upgrades but the cost was too high, and I didn't need more hard drive space since I store all files on my [intlink id="184″ type="post"]Windows Home Server[/intlink].