Christmas is soon upon us so I gathered ingredients and started preparing my home made gifts. I like to make five or six items that I pass along to friends and family. I'll feature one a week: first up is herb and garlic sea salt.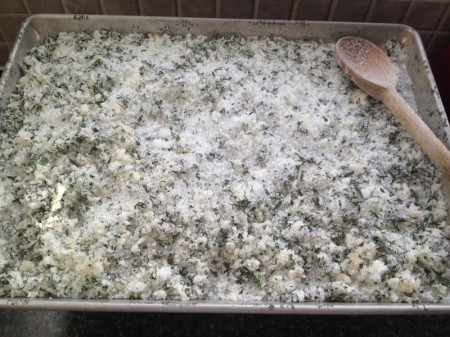 Combine chopped herbs and crush or grated garlic with coarse sea salt and let dry for a day or two. The preparation is simple and the final product is wonderful: a perfect seasoning for all meats and a variety of roasted vegetables.
I made two batches, each with two kilograms of coarse sea salt. The first batch had a large bunch of thyme, a large bunch of sage and a half a large bunch of parsley. The second batch had a large bunch of rosemary, a small bunch of sage, a small bunch of thyme and half a bunch of parsley. Use whatever herbs you enjoy in whatever quantity you want: I like it very herby as you can see above.
After taking the herbs off the stems I finely chopped all the herbs and added them with the salt into a large mixing bowl. To that I grated fifteen large pieces of fresh garlic and gave it a stir. Then I poured the mixture onto a sheet pan and further mixed it with my hands. You can see in the picture above the yellow areas where the garlic has made the salt wet and clumped together: get into those areas and really mix the garlic thoroughly into the salt.
Let the mixture dry for a day or two and then put into whatever containers you're planning to use; I distribute it in 250 ml canning jars. This mixture keeps for months without issue: the salt dries the herbs and garlic, preserving them and making a very aromatic seasoning.
I've used this mixture on all varieties of roasted and barbequed meats and vegetables. A little goes a long way. It's very nice rubbed under the skin of a chicken or turkey, or rubbed into a beef roast.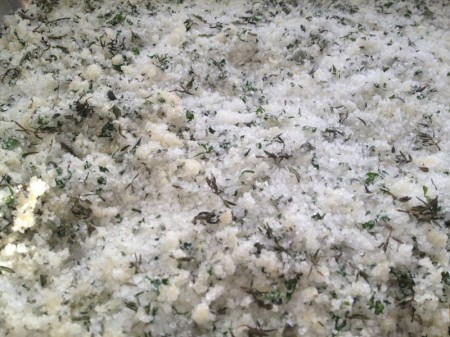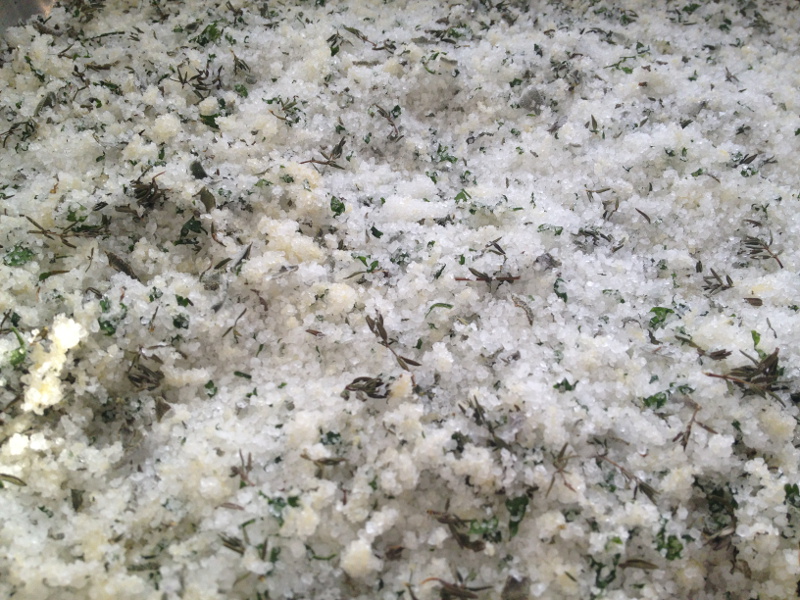 Herb & Garlic Sea Salt
three large bunches of fresh herbs
two Kg (five pounds) of coarse sea salt
15 pieces of fresh garlic
Take all the herbs off the stems and finely chop.
Add salt and finely chopped herbs to a mixing bowl.
Grate or finely mince the garlic and add to the mixing bowl.
Thoroughly mix everything together.
Spread onto a sheet pan and let dry for 1-2 days.
Store in airtight containers.