Gros Sel: Grey Sea Salt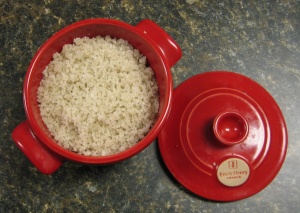 Grey sea salt: I'm in love.  At Costco a few years back they had French sea salt for an excellent price so I picked up a container and started using it as a finish on meats.  It added such an amazing dimension to steak, chicken and pork chops that I rushed back and bought four more containers.  My little red pot sits by the stove so I can finish most of my dishes with a modest sprinkle.
This is not fleur de sel, that pure white salt collected off the top of the harvested salt, but instead gros sel de Guerande or coarse grey sea salt.  Gros sel has a wetter and to me earthier characteristic, not to mention a whole lot cheaper.  Michael Chiarello is always referring to grey salt in his recipes on television shows.  Whole Foods carries it in bulk and seems to have the best price.