The latest in Bryan Talbot's anthropomorphic steam punk epic, Grandville Bete Noire takes the familiar mystery framework and turns it on its ear, in a good way.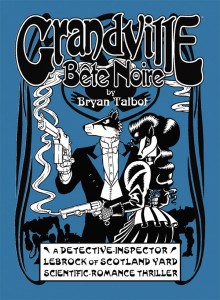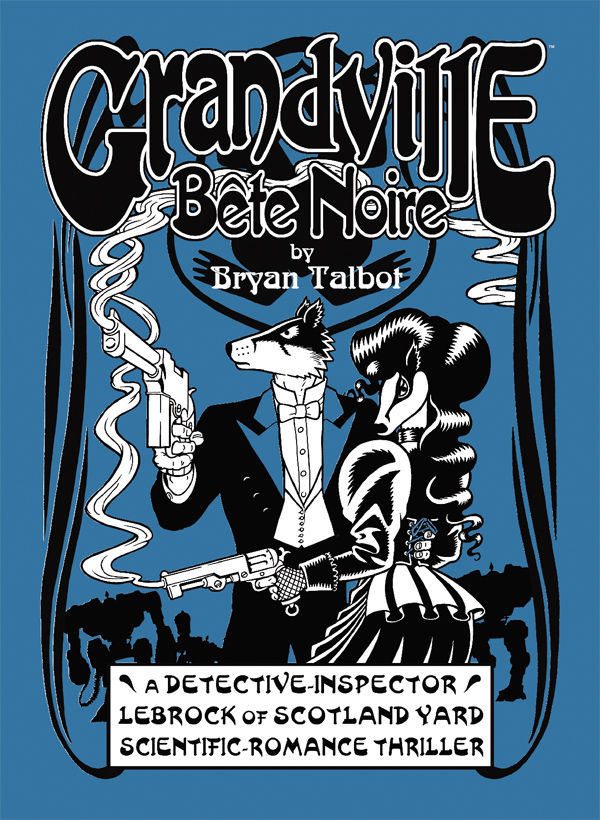 The baffling murder of a famed Parisian artist in his locked and guarded studio takes the tenacious Detective Inspector LeBrock of Scotland Yard and his faithful adjunct, Detective Ratzi, into the cutthroat Grandville art scene to track the mysterious assassin. As the body count mounts and events spiral out of control, the investigation points to Toad Hall, where a cabal of industrialists and fat cats plot the overthrow of the French State . . . by use of steam-driven automaton soldiers!
Writer/Artist: Bryan Talbot
Dark Horse, December 12, 2012
Full-Colour HC, 104 pages, 8″ x 11″
$19.99 USD
ISBN: 978-1-59582-890-3
Order online: Amazon
For those not in the know, this is the third book set in the Grandville universe, where anthropomorphics (animals in human form) rule and humans are the subservient species. It's a Victorian steampunk world where France defeated England during the Napoleonic Wars, but for more on that pick up the first two volumes. It's an exciting framework to build a story and Talbot does an excellent job.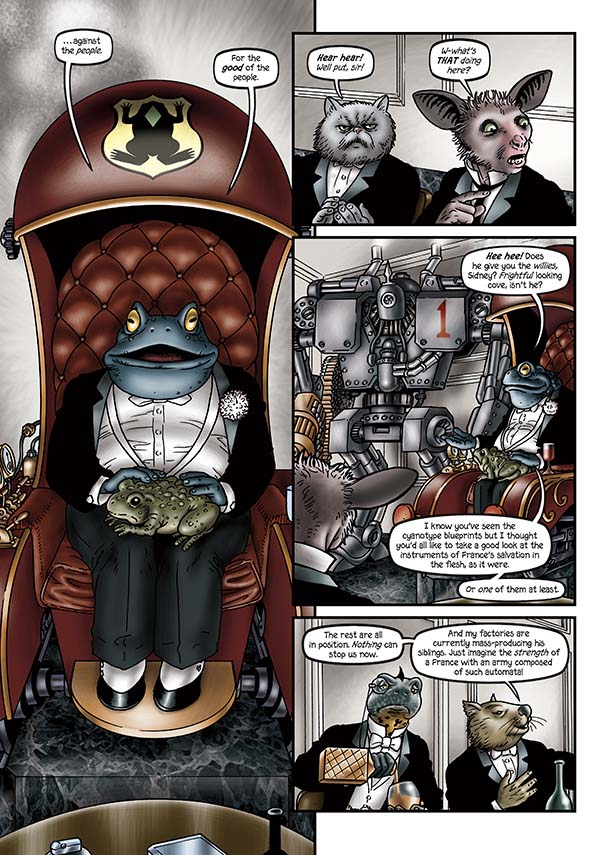 This time around our hero Detective Inspector LeBrock is brought to Paris to investigate a series of strange murders by a masked man. This leads to a group of wealthy industrialists trying their best to hold onto what they have, through any and all means available, including modern art. You have to read to believe it, but it does work. And who doesn't like a murderous toad bent on world domination?
Talbot mentions in his afterward that this is a pastiche to James Bond and The Wind And The Willows, so expect the unexpected. To me, it feels more like the latest Sherlock Holmes movies, with that physicality, aggressive love interest and attention to period details. Conventional plot lines in completely unconventional settings and characters. Take our lead: LeBrock fits the classic lead investigator paradigm we expect, except he's a badger and without social training. Even though we've seen these plots before Talbot does them well and with panache; it feels fresh in this environment.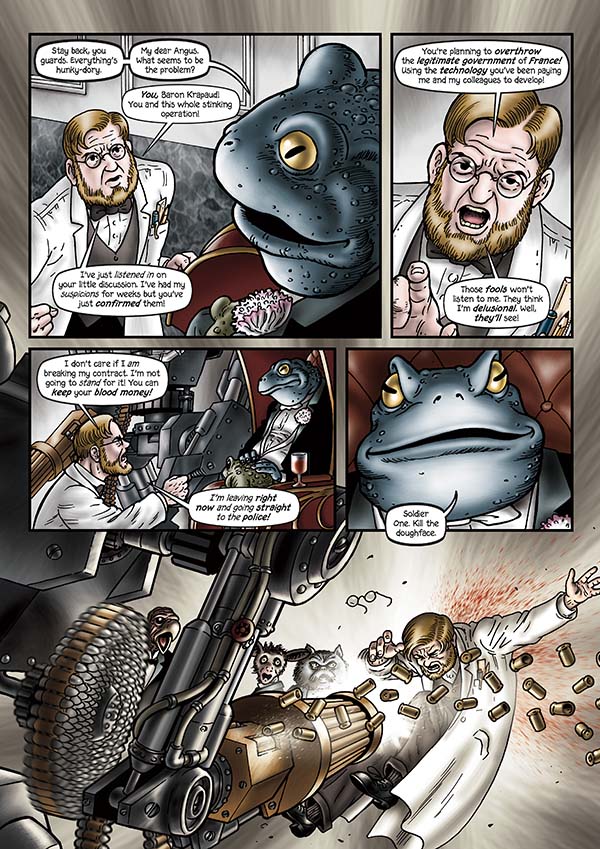 The art is slick and because of the framework, there are wonderful uses of every possible animal and steampunk machine. I'm not sure of his process but can safely say Talbot uses digital colours. His lines are even and most of his texture is done digitally as well. At times it feels too slick, like the blur of the ammo belt above as it spins into the machine gun. Emotion and body language are harder to illustrate on animals but Talbot does a great job conveying what's needed.
Grandville Bete Noire is a solid hardcover with excellent production, from the embossed cover and everything in between. At $20 it's a solid value, with an Afterword from the author as the only extra.
---
Originally published at Comic Book Daily.