Immediately following the story from Baltimore: The Plague Ships we find our relentless vampire hunter working his way into a new undead situation with Baltimore: The Curse Bells. This volume collects the five issues of the mini-series.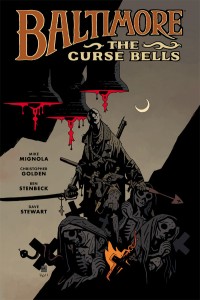 A horrific ritual will create havoc on a small European town, as Lord Baltimore takes on the twisted blessing of vampiric nuns and an insane warlock!
Writer: Mike Mignola, Christopher Golden
Artist: Ben Stenbeck
Colorist: Dave Stewart
Cover Artist: Mike Mignola
Genre: Horror, Action/Adventure
Dark Horse, June 13, 2012
Format: FC, 144 pages; HC, 7″ x 10″
Price: $24.99
Age range: 16
ISBN-13: 978-1-59582-674-9
Order online: Amazon
This is the second volume of the Baltimore tales and for some reason, Dark Horse chose to title this book Baltimore: The Curse Bells Volume 2 which makes no sense since it should be Baltimore Volume 2: The Curse Bells. Ah, I feel better already.
More undead action from Mike Mignola and Christopher Golden. Unfortunately, they're both credited as writers so we don't know who did what but I'm guessing Mignola did the outline and Golden wrote the story. Lord Henry Baltimore, who chanced upon a vampire on the battlefields of World War I and has since dedicated his life to slaying Haigus, that same vampire who slew Baltimore's family and took his leg. Driven, relentless and all in all, not a very exciting character. Luckily for the readers, Baltimore has an entourage this time around: Simon Hodge, former Boston Globe reporter striving to become the world's foremost expert on vampires. And since villains are so interesting and colourful we have three this time around: our vampire Haigus, a warlock with dreams of world conquest and André Duvic, judge of the Inquisition.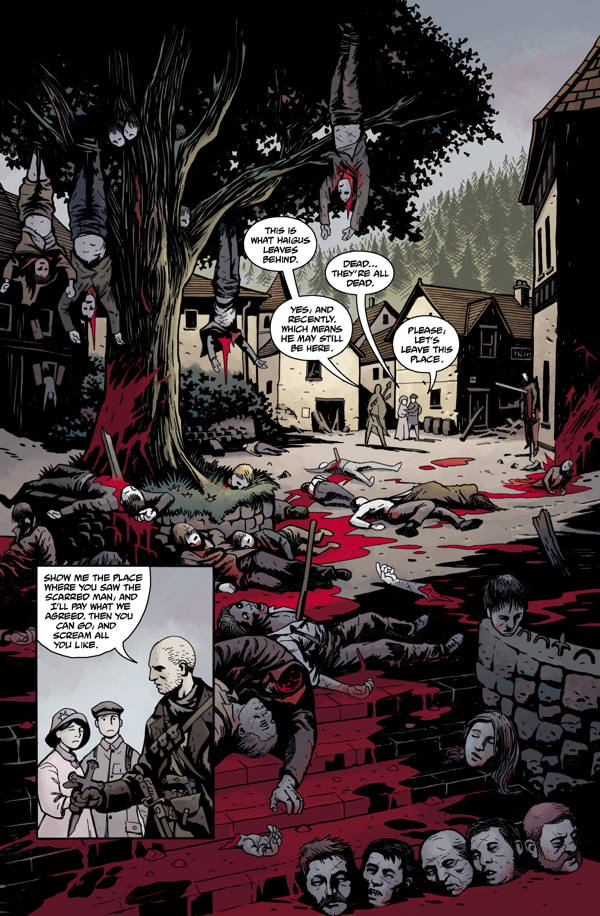 Yes, Inquisition. This is like our world but with vampires, so they have the Inquisition to root out this plague of darkness. Duvic is a sadist working under the protection of the Church and the perfect foil for Baltimore; ying to his yang. Yet I don't think we actually need this character. We have Baltimore pursuing Haigus across Europe to exact revenge for destroying his family and now we also have Duvic pursuing Baltimore across Europe to cleanse him.
The characters provide lots of great reading with origin tales and character development; they're so engaging you hate to see anyone get killed. Baltimore is the straight man to all the fun, horrific and macabre around him. But since at its heart this is really about a good guy slaying lots of evil bad guys it delivers.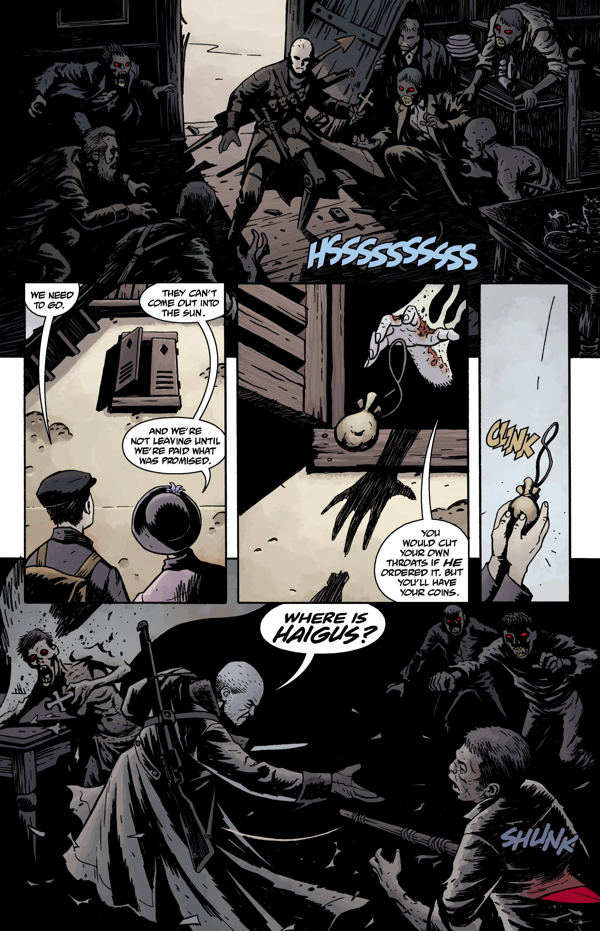 Ben Steinbeck does a great job visually portraying this story. He has a style that slightly follows Mignola's, providing that thread from project to project but without the hard lines and lack of curves. It's clean, concise and well-defined. Colours by Dave Stewart, a regular in the Mignola universe, provide the dark and historic tones.
Baltimore: The Curse Bells is an engaging story. Extras in this volume include design sketches by Steinbeck and Mignola, a few colour pinups by Steinbeck and an introduction by Joe R. Lansdale. At $25 it's a good value with decent chances of multiple readings.
---
Originally published at Comic Book Daily.