I am a huge Wilbur Smith fan and my bias may come through here.  To sound impartial I will mention I didn't get through his last book The Quest as it just couldn't hold my attention.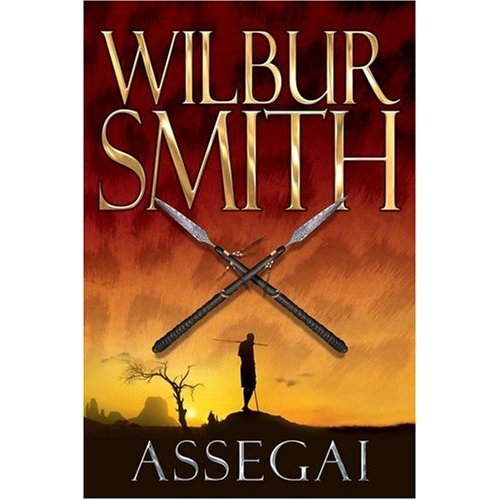 Assegai is the story of Leon Courtney, a young man who finds his place in life by way of the military, hunting, action, adventure and a war.  This is Smith's usual mix for his historical fiction and to be honest it works so why try and change it.  Here's the publisher's blurb:
It is 1913 and ex-soldier turned professional big game hunter, Leon Courtney, is in British East Africa guiding rich and powerful men from America and Europe on safaris in the Masai tribe territories. One of his clients, German industrialist Count Otto Von Meerbach, has a company which builds aircraft and vehicles for the Kaisers burgeoning army. But Leon had not bargained for falling passionately in love with Eva, the Counts beautiful and enigmatic mistress. Just prior to the outbreak of World War I, Leon is recruited by his uncle, Penrod Ballantyne, Commander of the British Forces in East Africa, to gather information from Von Meerbach. He stumbles on a plot against the British involving the disenchanted survivors of the Boer War, but it is only when Eva and Von Meerbach return to Africa that Leon finds out who and what is really behind the conspiracy.
The setting is British East Africa just before World War One and Smith has given us a few surnames we're familiar with from previous works, Courtney and Ballantyne.  We follow the exploits of young Leon Courtney as he labours in the military, joins a big game hunting company, works with the indigenous people and pits himself against a villain all the while falling in love and in the end working to save the fair maiden and thwart the villain.
What carries this off with a fervent desire to turn the next page is Smith's ability to keep the action flowing, whether it be in a firefight, against big game or our central villain.  You want to see what happens next, right until the very end.  Not to sound prurient but he likes to throw in a variety of sex scenes which could be cut out or downplayed without missing a beat: without these Assegai would be a thrilling tale for younger readers.
All in all another outstanding Wilbur Smith work.