Picked up A Prisoner Of Birth at a bargain book warehouse; I knew Jeffrey Archer's work and needed some new reading material.  Two days later I had finished the best book I have read this year.  Here's the publisher's blurb:
If Danny Cartwright had proposed to Beth Wilson the day before, or the day after, he would not have been arrested and charged with the murder of his best friend. And when the four prosecution witnesses are a barrister, a popular actor, an aristocrat and the youngest partner in an established firm's history, who is going to believe his side of the story?
Danny is sentenced to 22 years and sent to Belmarsh prison, the highest security jail in the land, from where no inmate has ever escaped. But Spencer Craig, Lawrence Davenport, Gerald Payne and Toby Mortimer all underestimate Danny's determination to seek revenge and Beth's relentless quest to win justice, which forces all four protagonists to fight for their lives.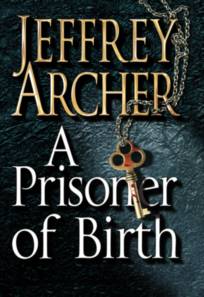 I've left this review for three months with the feeling I couldn't do the story justice.  At it's simplest a story of overcoming and redemption, getting dealt a completely unfair hand and then grasping threads to weave together something far greater than it's parts.
We follow Danny as he unjustly goes to prison, makes his way out and seeks revenge on his accusers.  There's nothing new in this plot line but how it's accomplished keeps you reading.  There weren't a lot of surprises as Archer plays to the common denominator but it was how Danny dealt with each twist and turn that kept me engaged along the way.  Each time he overcame you cheered for him: that's great storytelling and character development.  It wasn't just Danny that you became familiar with: the line is drawn very heavy between the good and the bad.
It all sounds vague but I don't want to give too much away: if you enjoy a great tale of overcoming ridiculous odds then give this a read.