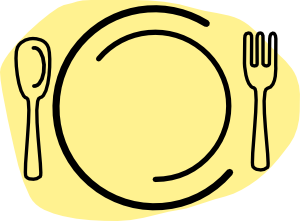 We don't eat out a lot, but when we do with our little children we mostly get something along the lines of fast food; a burger or sandwich.  Now that they're getting a little older and can sit for an hour or so we've been going out to middle of the road sit down restaurants: places in Southern Ontario like Casey's, Montana's, Kelsey's.  Two things struck me when we went back to these types of restaurants: they're not cheap and the food isn't that good.  We can do better by dining low end and high end; I'll stick with chain or franchise eateries since they're consistent with price and content.
Let me clarify: an entree and non alcoholic beverage averages $20 per person.  For this you're getting a burger, sandwich or overcooked pasta.  Everything is made from some form of processed food and tastes very generic.  If you want a steak, chop or ribs you're reaching $30 per person for again a bland dinner.  Kids meals average $8: yikes!
Compare that to fast food: Wendy's, Subway, McDonald's.  Here you're averaging $8 per person and getting a sandwich or hamburger.  No one is serving you at your table, no ambiance to speak of but you're saving money and the quality of the food is about the same; semi-processed.  Taste is subjective but I find a good sub with fresh toppings a good quick meal.  Kids split something so they're averaging $4 each.
Now let's talk high end steak house.  Not "top of the line celebrity chef behind the name" kind of place but a good steak house; we'll use The Keg and Canyon Creek Chop House as examples.  Meals with non alcoholic beverage average $35 per person.  Kids get a bunch of free stuff and split something for about $5 each; this is where high end pays off for children.  The quality of the meal is quite good, service is usually excellent but you do have to put up with dimmed lighting; am I the only one who wants to see their food and everyone else at the table?
We're a one income family on a budget so eating out is a weekly event and normally coincides with a shopping trip or visit.  Looking at eating out three times in a month for two adults and two children.   Three middle of the road meals $168, two low end $48 plus one high end $80 for $128 total.  Either way seems a little pricey but you can see what I'm talking about here.  Save money by going low end a few times and then a big finish with high end.
There's no question you can eat better and save a whack of money by eating at home.  As you can see from my food articles I like to make everything at home from "scratch": nothing pre-made at all, except condiments which seem better pre-made for some reason I haven't divined yet but I'm going back on the rails on my crazy train of thought.