A sumptuous collection of amazing British 1960s strips by Tom Tully and Frank Bellamy, Heros The Spartan is a must for comic art fans.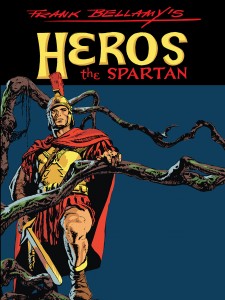 In 1962 Frank Bellamy was asked to draw a new Roman epic strip for the Eagle, written by Tom Tully. Bellamy had previously honed his artistic skills on Robin Hood and King Arthur in the Swift (both available from Book Palace Books) and The Happy Warrior, the Story of Winston Churchill, Montgomery of Alamein, Marco Polo and Fraser of Africa, also in the Eagle.
At the pinnacle of his artistic skills, this new commission gave him a unique opportunity. The new strip Heros the Spartan was being presented on the centre double page spread of the Eagle. This enormous canvas gave Bellamy a format few comic strip artists ever achieve or even dream of. The double page format enabled Bellamy to create the greatest comic strip adventure ever presented to the public.
He excelled himself with revolutionary page and panel design and dramatic ink line work all in glorious colour and his ink lines and colour work on this strip have yet to be equalled by any other artist on any strip.
Authors: Tom Tully, Frank Bellamy
Artist: Frank Bellamy
Book Palace Books, June 25, 2014
Hardcover, Full Colour, 272 pages
Size: 11″ x 14″ (270mm x 360mm)
ISBN: 9781907081194
$179.99 USD
Like a lot of great visual strips, we're not here for the story. That's not to say Tom Tully didn't provide the necessary cliffhangers with each episode or give us those dastardly single-minded villains, because Heros delivers on those fronts. Characters are one dimensional: Heros is loyal, brave and true, just as you'd expect, and everyone else does what they should. It's astounding how often Heros and whoever he's roped into assisting him get captured, and only through someone else's efforts accomplish their mission. It plays out well, and I was hooked from the get-go. This isn't your typical adventure strip, which is a good thing.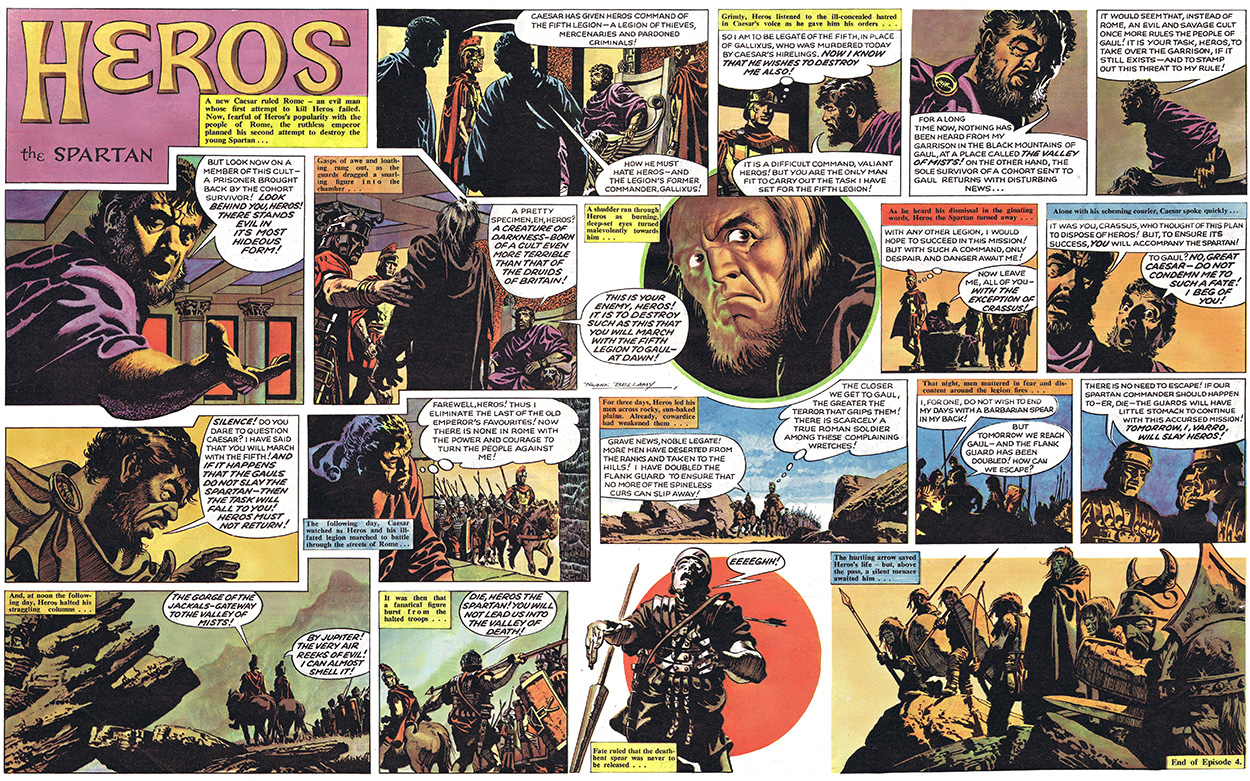 Most striking, strip by strip, is Bellamy's use of the closeup: he's a master of facial detail and it all comes through. They're easy to spot since close-ups are framed in a circular panel. With that double-page spread to work with we're treated to shifting layouts but always a carefully crafted panel or two that zooms in and highlights a character and their expressive face. Great stuff.
That double-page spread is the reason to celebrate Heros and Bellamy but also the issue I have with this volume. Although there were careful consideration and construction of the sewn binding we still lose text in the center binding. You can give the book a good pull and get most of it but there are times it doesn't work.
The source material comes from a selection of originals and carefully restored print copies. It's well done, with crisp and clean art and text throughout. Matte paper stock is used, bringing the material close to the strips as they were published.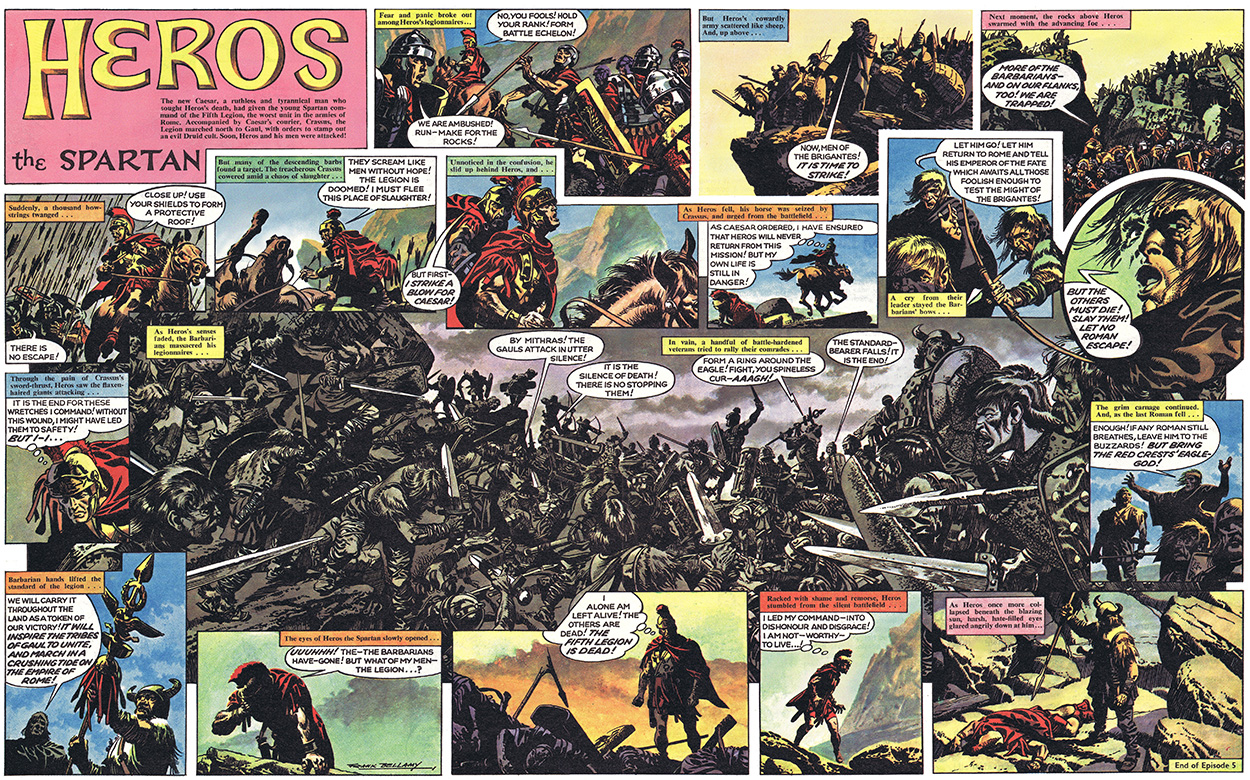 And that leaves one final concern: cost. This is the most expensive reprint book I've ever bought, and there are lots of factors that add to that cost: small print run, British publisher, extensive production work, exquisite overall package. I picked it up on Boxing Day as a late gift from a Toronto comic shop who imported it from Book Palace: at the time they hadn't planned on distributing through Diamond to the North American market.
Each story arc has an introduction by editor Peter Richardson that provides not only a recap but a personal insight; something a little different and at times disarming. A nice addition.
There is a wealth of supplementary material, leading with extensive forwards from Byrne, Gibbons, Simonson, Steacy and Watkiss. Following that is a lengthy introduction to the material and finally a full interview with Bellamy. Mixed amongst these text pieces are a multitude of Bellamy's other works, including some gorgeous Fraser Of Africa pages. Let's hope Book Palace Books has plans for Fraser!
If you are gripped by the sample pages in this column then it's worth spending the money and getting a copy. This is a limited run and won't be available long so get in touch with your local comic shop and get your order in now.
---
Originally published at Comic Book Daily.